Booking.com8.0
Expedia.nl8.6
Google8.2
Luxury hotel on the Veerse Meer
Welcome to Fletcher Hotel-Restaurant Het Veerse Meer. This modern and luxurious 4-star hotel in Arnemuiden is the perfect destination for a getaway in Zeeland. The restaurant features a panoramic view of the Veerse Meer.
Located directly on the Veerse Meer
Charming Marina Lounge with scenic views
Private docks
Fitness room with a wide range of equipment
One multifunctional meeting room

Modern and stylish
At Fletcher Hotel-Restaurant Het Veerse Meer, you will enjoy all the luxury that a hotel has to offer. The hotel creates a sense of rest and relaxation through its charming, contemporary interior. The comfortable hotel rooms are equipped with the necessary amenities and some of the rooms feature a fantastic view out over the water.
Enjoy a breath-taking view of the lake from the two enormous terraces, complete with an outdoor bar. Lounge on the terrace and enjoy a snack and a drink. Treat yourself with gourmet delights during lunch or dinner at the stylish Marina Lounge. The cuisine here is always wholesome, natural and regional.
Stunning location
Fletcher Hotel-Restaurant Het Veerse Meer is the perfect location for a wonderful, carefree weekend away in Zeeland. The hotel borders Lake Veere and the nearby city of Middelburg, which is characteristic of the region. The naturally beautiful surroundings make it even easier to fully relax. Water sports lovers can choose to participate in a wealth of activities. There is something for everyone here!
Our team warmly welcomes you!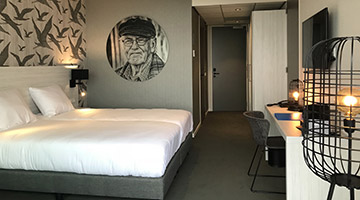 Photos and videos 
Do you already want to get in the mood before you arrive at our hotel? Check out the photos and videos of our hotel here.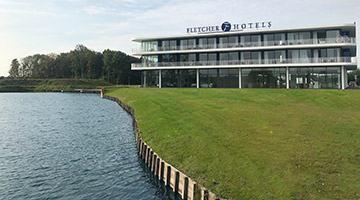 Directly located on the Veerse Meer
Our hotel is beautifully located on the Veerse Meer. When visiting the spacious terrace, you have a beautiful view over the Veerse Meer. Here you will not only see the sailboats and motorboats passing by, but also many water sports enthusiasts who practice the most challenging water sports.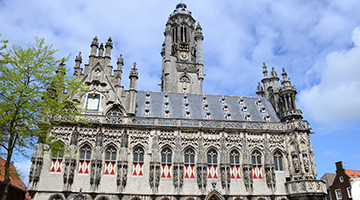 Culture and nature
Make beautiful cycling and walking tours through the varied Zeeland landscape, spend a day lounging on the beach or discover beautiful historic places such as Middelburg and Veere.